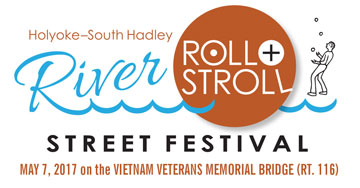 Two Communities Bridge the Connecticut River for the Roll and Stroll Street Festival!
Holy S.Had! Take to the street and come together on the bridge that connects Holyoke and South Hadley for a vehicle-free, care-free Sunday celebration and experience the Connecticut River in a whole new way!
The Route 116 Vietnam Veterans Memorial Bridge will be closed to traffic from 11am to 3pm on May 7, 2017 for this free, 'open streets' event featuring music, art, activities, food and fun for all ages. There is no admission charge, and all activities are free.
Enjoy street performers and dancers, brass bands, latin bands, marching bands, jazz bands, vocal groups, and even a mandolin orchestra. Try out free activities like a cycle track, foot race course, putting green, soccer dribbling course, giant bubbles, hula hooping, chalk drawing, hopscotch, face painting, or bike decorating. Or, just grab a chair or a spot on the astroturf and relax in the mid-bridge 'Serenity Spot,' where you can even ask an Audubon guide about Connecticut River wildlife.
At 12:30pm veterans groups, Holyoke and South Hadley school bands, performers, and the public will gather at each end of the bridge, where some 300 fish kites created by students, adults and seniors in both communities will be distributed for a colorful parade to the middle of the bridge. Marchers will join together for a bridge rededication ceremony honoring the Vietnam Veterans for whom the bridge is named. Massachusetts Secretary of Veterans Francisco Urena will represent the Governor's office.
Food vendors at either end of the bridge include Holyoke Hummus Company, Bistro Bus, Sidecar Bakery, El Guanaco, Surf-n-Dogs, and the bridge-roving Crooked Popsicle Sticks bicycle cart. Numerous community groups will host information booths on the approaches to the bridge on the Holyoke and South Hadley sides of the river.
The River Roll and Stroll 'open streets' event is the official kick-off event to 2017 Bay State Bike week. This 'open streets' festival is presented by the Bike/Walk Committees of the City of Holyoke and the Town of South Hadley, with support from the Massachusetts Department of Transportation (MassDOT); MassBike; and the Cultural Councils of South Hadley and Holyoke, local agencies supported by the Massachusetts Cultural Council, a state agency. Event sponsors E-Ink, Holyoke Medical Center, Republic Services, Mount Holyoke College, Big Y, PeoplesBank, Conklin Office Furniture, and Holyoke Youth Soccer League.
Holyoke-South Hadley River Roll and Stroll Street Festival
Sunday, May 7, 2017 | 11am to 3pm
On the Vietnam Veterans Memorial Bridge, Route 116
Free Admission | Rain or Shine
Information Flyer: Holyoke-SouthHadley_RiverRollAndStroll-050717.pdf