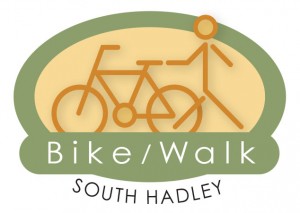 The South Hadley Bike-Walk Committee (southhadleyma.gov/bikewalk) invites the public to participate in two free town bike events the group is sponsoring as part of the MassBike Pioneer Valley Bay State Bike Week, which runs from May 14-22, 2016. Massachusetts is the only state in the country with a statewide bike week. For more information visit www.massbike.org.
Bicycle Safety Rodeo
May 21, 2016 from 1-4pm at Buttery Brook Park
Designed especially for families, this event will be held on Saturday, May 21 from 1:00 to 4:00pm at Buttery Brook Park on Willimansett Street in South Hadley. Have your bike undergo a basic bicycle safety check, have fun with a safety cone obstacle course, then stay and enjoy the park's wonderful renovations.
All Ages-Friendly Bicycle Road Ride
May 15, 2016–meets 12:45pm at McCray's Farm Parking Lot
Led by several Bike-Walk Committee members, this is the first of two town bike events in connection with MassBike Pioneer Valley Bay State Bike Week. The roundtrip ride will be approximately 6 miles in length, from McCray's Farm on Alford Street to Canal Park in South Hadley Falls and then back to McCray's Meet between 12:45 and 1:00pm at McCray's mini-golf parking lot. Roll along several bike-friendly streets here in South Hadley and enjoy some fresh air, a beautiful scenic overlook of the Connecticut River, and the camaraderie of fellow bikers. This will be the last Bike-Walk sponsored outing until September.
The Bike/Walk Committee offers free, guided Treks (hikes or bike rides) throughout the year. Treks are scheduled on Sundays at 1:00pm and participants gather at 12:45pm. No treks are scheduled in June, July and August. Join us to explore local conservation lands and other resources. New Trekkers are always welcome! 
Inclement weather may force a cancellation; please check www.facebook.com/southhadleybikewalk for updates. For more information, email: bikewalksouthhadley@gmail.com or visit southhadleyma.gov/bikewalk.